Supra-Gingival Dentistry – Studio City, CA
Supra-Gingival (Healthy) Dentistry
Supra-gingival dentistry means "Above the gum healthy dentistry." If you want a healthier type of dentistry, you may want to visit our dental office, Supra-Gingival Dentistry by Dr. Ruiz. Dr. Ruiz and his team of dentists, all trained in supra-gingival dentistry, provide full services, all performed using this healthier form of dentistry. Dr. Ruiz wrote the textbook "Supra-Gingival Minimally Invasive Dentistry, a Healthier Approach to Cosmetic Dentistry, published by Wiley. Supra-gingival dentistry is a minimally invasive form of dentistry that uses innovative techniques, based on the latest advances in adhesive dentistry, composites, and ceramics to save tooth structure and place restorations above the gumline (supra-gingival). Supra-gingival dentistry from our Studio City, CA cosmetic dentist has the benefit of less trauma to the tissues, less chances of root canal damage, and beautiful healthy results.
Contact our dental office if you want to learn more about supra-gingival dentistry in Studio City, California. Our dentist and team look forward to educating you in order to provide you with beautiful and healthy smiles.
Why Choose Dr. Ruiz and his team for Supra-Gingival Dentistry?
Materials placed above the gum line to create healthier gums
Less tooth structure is cut away, resulting in fewer root canals
Minimally invasive treatment with minimal discomfort
A Healthier Form of Dentistry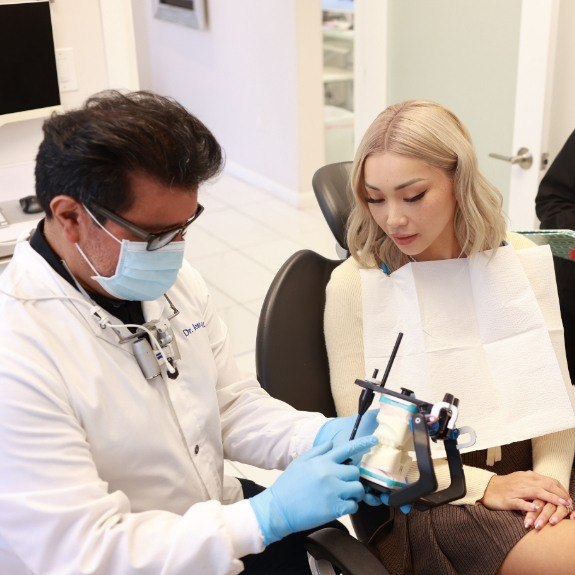 The inflamed gums seen in picture 2 remind us that this type of inflammation is similar to periodontal disease. Periodontal disease is a chronic infection and inflammation which causes systemic disease. At our dental office, we are concerned about your overall health, which is why we avoid placing foreign materials under your gums as much as possible. These materials are irritants to your gums and can contribute to gum disease. Additionally, we use multiple measures to protect you from unnecessary exposure to undesirable substances. We only use FDA-approved materials, and when removing amalgam, we use double suction and a Dryshield trap. Dr. Ruiz has published many research papers on dental materials and is an expert on this topic, choosing only the healthiest and top-notch materials to treat his patients. If you have any allergies or special needs, do not hesitate to talk to Dr. Ruiz.
Picture 1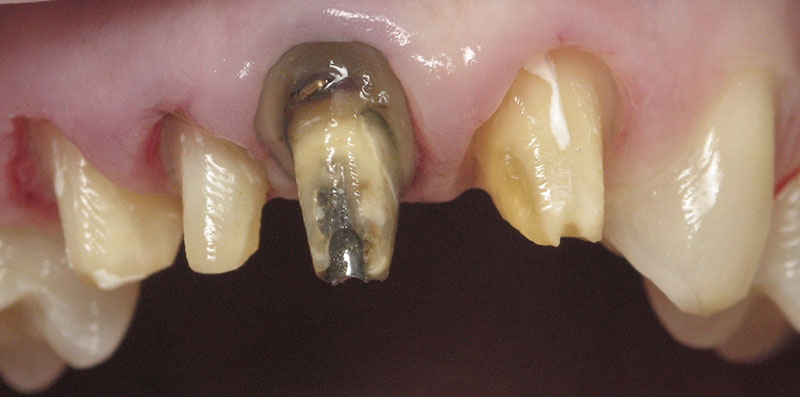 Traditional dental crowns (not performed by us) require the removal of a lot of healthy tooth structure, (Picture 1) leaving only a stump of the tooth remaining.
Picture 2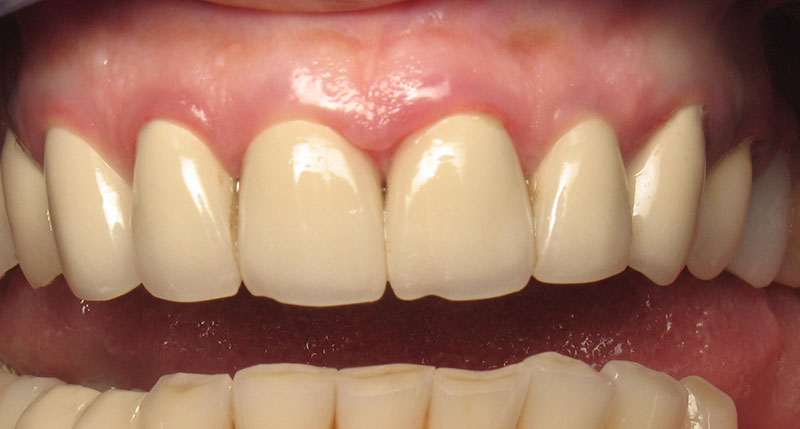 Often dental restorations are placed under the gumline, which can make the tooth and gums unhealthy (Picture 2). The opaque color of these restorations also looks unnatural. But with Dr. Ruiz's supra-gingival dentistry, only the damaged tissues are removed, and many specialized techniques are used to stay away from the gum line, with only some rare exceptions.
Picture 3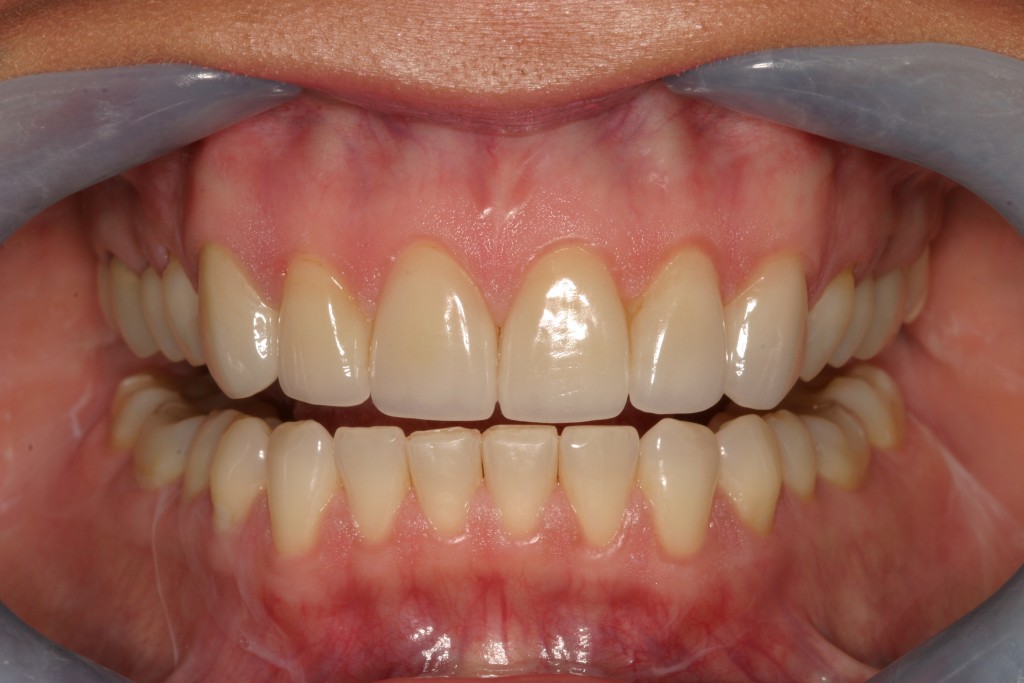 The thinner translucent restorations also allow the natural luster of the tooth to shine through for a more beautiful smile (Picture 3 is a case with 15 years of healthy results). Call our dental team today if you want to learn more about our minimally invasive supra-gingival dentistry. You can reach us at (818) 755-2920.