Invisalign – Studio City, CA
Discreetly Straighten Your Teeth in a Fraction of the Time
src="https://www.youtube.com/embed/Jl-RSnocJIk" style="max-width: 100%;" title="YouTube video player" width="560">
Invisalign is a revolutionary teeth-straightening solution that's helped more than 12 million patients achieve their dream smiles. Although they are known best for their see-through aligners, this orthodontic treatment comes with a wide range of benefits, including a shorter average treatment time than traditional braces. So, if you want to discreetly straighten your teeth in a fraction of the time and with less hassle, then schedule an appointment with Dr. Jose-Luis Ruiz to see if you're a candidate for Invisalign!
Why Choose Supra-Gingival Dentistry For Invisalign?
Highly Recognized Dentist with 20+ Years of Experience
A Team Dedicated to Dental Excellence
Flexible Financing Available with CareCredit
How Invisalign Works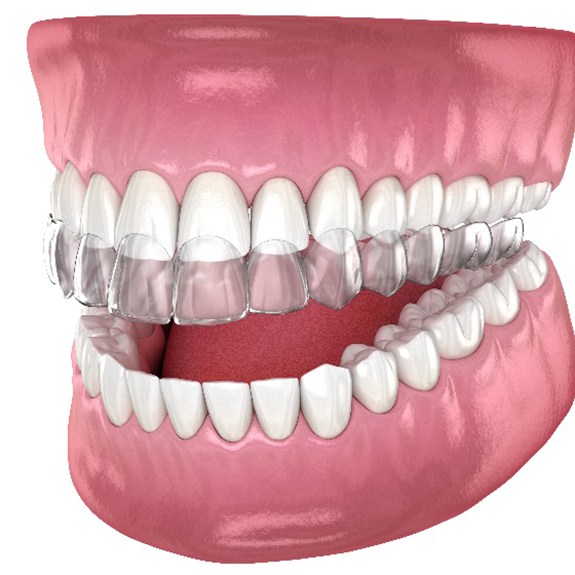 Since Invisalign doesn't use metal brackets and wires, many patients are curious how the aligners effectively move their teeth. In short, each patient is given a custom-made series of trays that are designed to incrementally move your teeth closer and closer to their ideal positions. By wearing each aligner for 20-22 hours a day, your teeth will begin to move, and the next tray in the series will pick up where that one left off. In an average of just 12-18 months, your once-misaligned teeth will be set in their new, perfectly aligned positions.
Indications for Invisalign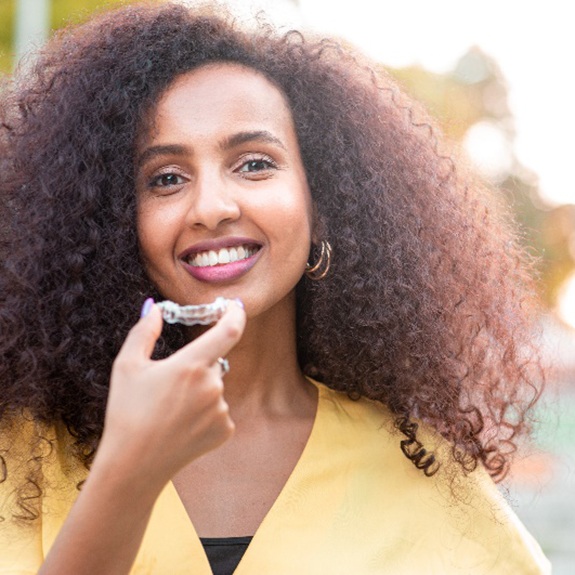 Fortunately, Invisalign is as versatile as it is discreet. As a result, we can use the clear aligners to correct crowded teeth, uneven bites, and several other orthodontic issues!
Crowded Teeth
Crowded teeth come with drawbacks to the look and health of your smile. The good news is that the clear aligners can apply just enough pressure to guide your teeth into their straight, properly aligned positions – often in just 12-18 months too!
Gaps Between Teeth
If you love the gap between your front teeth, then you may not feel self-conscious every time you smile. If you don't love the space, then you should ask our team if you're a candidate for Invisalign. For many patients, the clear aligners can close the gap, improving the look and health of their smile.
Bite Alignment
Overbites, underbites, and crossbites might not seem like a big deal at first. However, a misaligned bite doesn't function optimally and can often result in worn down teeth, chronic teeth grinding, and other consequences to your oral health. The good news is that Invisalign can improve the alignment of your bite as well!
The Benefits of Invisalign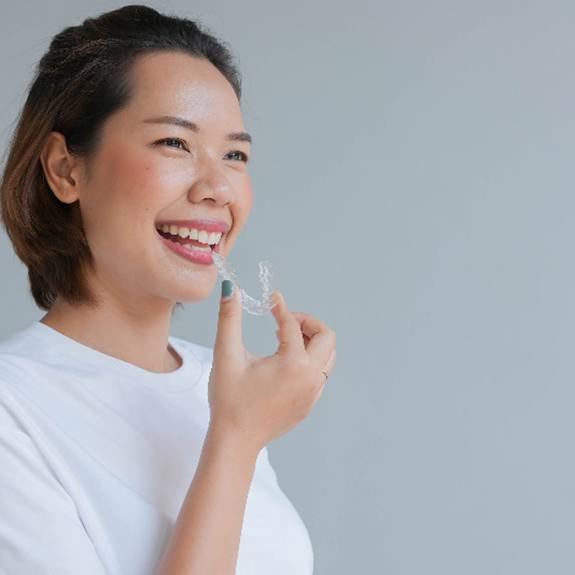 If you choose to straighten your teeth with Invisalign, you'll enjoy several benefits, including:
No dietary restrictions
Hassle-free oral hygiene
Shorter average treatment timelines
Discreet aligners
Fewer check-in visits
How Much Does Invisalign Cost?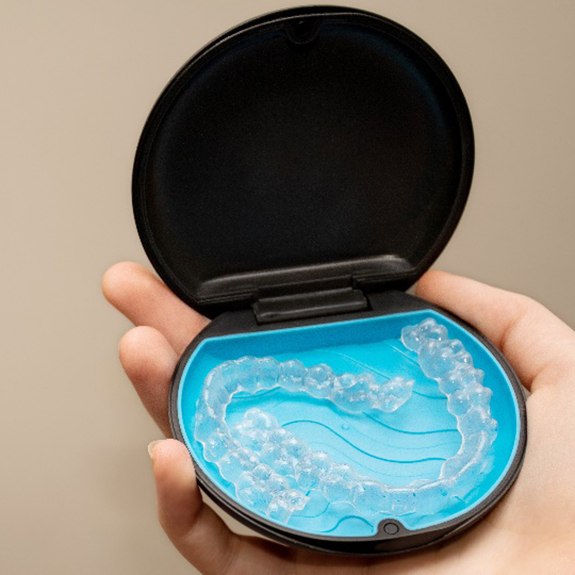 Of course, it's natural for patients to wonder about the cost of Invisalign. Since there isn't a flat fee, the best way to get an estimate is by scheduling a consultation with Dr. Ruiz. After taking the necessary X-rays and conducting an oral exam, he will be able to determine important factors, like how many trays are needed to transform your smile and whether you need to straighten one arch of teeth or both of them. Of course, we will also dedicate a portion of your visit to discussing the available financial solutions, including flexible financing with CareCredit.
If you'd like to learn more about this popular cosmetic dental treatment, then give us a call! From there, we can schedule a time for you to come in, and you'll be another step closer to your dream smile.
Invisalign FAQs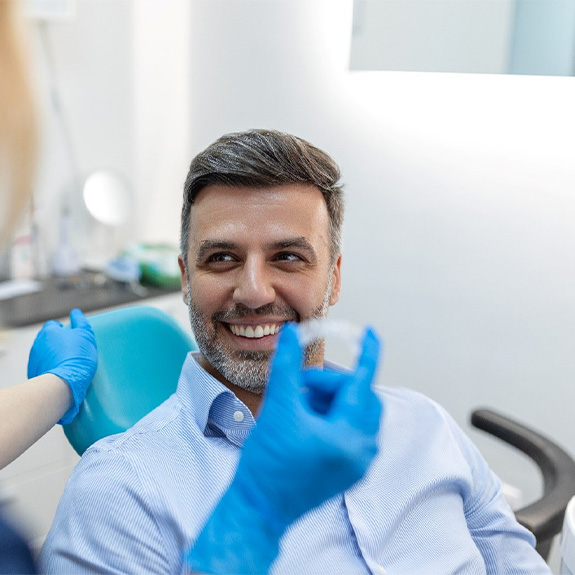 If you want to learn more about Invisalign, you're in the right place! Our Studio City dental team would love to answer any questions you have before or during your consultation (as well as throughout the entire treatment process). However, we've also dedicated this next section to answering some FAQs about clear aligner treatment as well.
How Long Does Invisalign Take?
The length of your Invisalign treatment will depend on several factors, including the severity of your misalignment and how compliant you are with the treatment guidelines. However, the timeline is 12 to 18 months. If you want to work through your trays as quickly as possible, then it is important to take proactive measures to stay on-track with your treatment plan, like wearing your aligners for 20-22 hours a day, committing to a solid oral hygiene regimen, and switching your trays on the right days.
What Happens After Invisalign?
Did you know that upwards of 50% of patients experience orthodontic relapse? This phenomenon is when your teeth begin to drift back into their previous, misaligned positions. Before you get discouraged, you'll be happy to know that there is a way you can drastically reduce the chances of that happening to you: wearing a retainer. With consistent use, this orthodontic appliance can keep your teeth in their perfectly aligned positions. Another big perk: some retainers today are just as discreet as your aligners!
Can You Eat with Invisalign?
You'll be happy to hear that the removable, clear aligners offer another perk: no dietary restrictions! While there aren't any foods that are off the table during your treatment, there are still a few things you should keep in mind when it comes to your meals. First, you need to meet the 20–22-hour wear time each day, so be mindful of how long your aligners are out. Second, oral health issues, like cavities, can delay your treatment, which is why it's of the utmost importance to eat plenty of vitamin-rich foods and keep your consumption of added sugar to a minimum. Third, you must remove your aligners when eating or drinking anything other than water – no exceptions.
Can I Drink Coffee with Invisalign?
You can drink coffee, but you must remove your aligners first! If you don't, your trays can become seriously stained. Furthermore, drinking coffee with your trays in will keep the residue pressed against your teeth, negatively impacting your oral health. We recommend drinking your coffee alongside your breakfast or afternoon snack. That way, you can minimize the amount of time your aligners are out of your mouth.
How Do I Clean My Invisalign?
Good news: keeping your aligners clean and clear doesn't require anything too complicated. On a daily basis, you can use a soft-bristled toothbrush and some clean water to remove plaque, food particles, and other debris. If your aligners are looking a bit yellow or are starting to smell bad, then place a packet of cleaning crystals (the ones that came in your welcome kit) in a cup of water and soak your trays in the mixture.